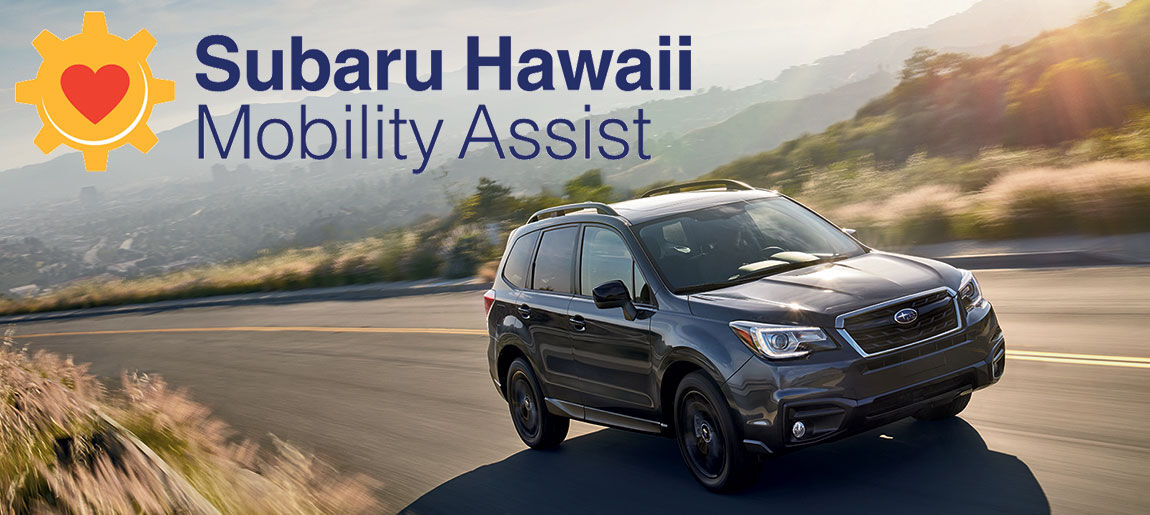 The Subaru Hawaii Mobility Assist Program provides reimbursement of up to $1000 on new Subaru vehicles from authorized Subaru Dealers in Hawaii to help qualifying owners get necessary vehicle modification due to medically recognized physical disabilities.
All Subaru models can be modified to provide added features, including but not limited to:
Left-hand gear shifter
Hand and foot controls
Servo-assisted controls
Steering devices
Pedal extensions
Turn-signal modification
PROGRAM QUALIFICATIONS
Applies only to the purchase of new Subaru vehicles from authorized Subaru Hawaii Dealer in Hawaii.
The Subaru Mobility Assist program covers only necessary equipment to adapt an eligible Subaru vehicle for persons with disabilities. The adaptations require a prescription or letter from a medical doctor. (Subaru factory optional equipment is not reimbursable under this program.)
Subaru will reimburse up to $1000 of vehicle modifications.
Vehicle modifications must be made within six months of vehicle purchase. A properly completed Claim Form for reimbursement along with all necessary supporting documentation (see list below) must be submitted to a Subaru Hawaii dealer within 180 days of installation. (refer to address on claim form).
VEHICLE ADAPTION OPTIONS
The following items are considered obvious adaptations that would qualify for this program, though they may not apply to your vehicle. If your adaptation is not on this list, or if you have any questions, visit your nearest participating Subaru Hawaii Dealer.
Hand and foot controls
Steering devices
Pedal Extensions
Servo Assisted controls
Wheelchair and/or Scooter Lifts or ramps
Factory Option Power Seats are NOT ELIGIBLE for reimbursement.
SUBMIT A CLAIM
Collect the following documents:
Purchase Order from a participating Subaru Hawaii Dealer
Doctor's letter or prescription describing the condition and modification necessary
Receipt from the installation facility that clearly shows payment was made in full, and
Completed and signed Subaru Hawaii Mobility Assist claim form (download PDF below).
Mail or fax all documents to the address listed on the Subaru Hawaii Mobility Assist claim form.
DOWNLOAD CLAIM FORM
For questions please contact a participating Subaru Hawaii dealer.